Sidebar

Thomas Lowry Young
NAME: Thomas Lowry Young
BORN: December 14, 1832
COMMUNITY AFFILIATIONS:
(born, Ireland)
eventually settled in Cincinnati, Ohio (Hamilton County)
EDUCATION: studied law, Cincinnati, Ohio
GOVERNORSHIP: 33rd governor, 1877 - 1878 (one term)
DIED: July 20, 1888 (Cincinnati, Ohio)
FAST FACTS:
Young was a lawyer by training.
An Irish immigrant, Young served in the U.S. army as a musician for ten years.
During the Civil War, he commanded 118th Regiment, Ohio Volunteer Infantry, through the East Tennessee campaign. After the Battle of Resaca (Dalton, Georgia), Young was promoted to brevet brigadier general.
His study of law began after being discharged from the army in 1864. He served several terms in the Ohio General Assembly.
Young was nominated by the Republican party as the candidate for lieutenant governor on the Rutherford B. Hayes ticket in the 1875 election. They were victorious in their bid, but Hayes resigned from the governorship in March of 1877 to become the 19th U.S. president.
Young served as governor through 1878.
He later served two terms in U.S. House of Representatives for two terms, 1879 - 1883.
FIRST LADY of OHIO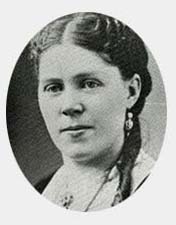 NAME: Sarah Agnes Riddle Young
BORN: June 20, 1870
COMMUNITY AFFILIATIONS: born...Mount Healthy, Ohio (Hamilton County)
MARRIED: ?
DIED: 1926, age 78 (Cincinnati, Ohio)