Sidebar

Reuben Wood
NAME: Reuben Wood
BORN: 1792 or 1793
COMMUNITY AFFILIATIONS:
(born, Middletown, Vermont)
moved...Cleveland, Ohio (Cuyahoga County)
EDUCATION: mostly informal
GOVERNORSHIP: 21st governor, 1850 - 1853 (elected to two terms)
DIED: October 1, 1864, Rockport, Ohio (Cuyahoga County)
FAST FACTS:
Wood was a lawyer by training.
When the War of 1812 began, Wood was living in Canada with relatives. The British attempted to draft him into service, but he escaped across Lake Ontario. He joined the American military for a short time.
Wood resigned from office during his second term, July 13, 1853, to take on the role of American consul at Valparaiso, Chile.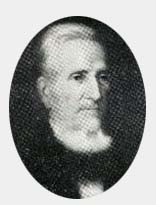 FIRST LADY of OHIO
NAME: Mary Rice Wood
BORN: ?
COMMUNITY AFFILIATIONS: (born, Clarendon, Vermont)
MARRIED: 1816
DIED: October 19, 1886, age 88, Alameda California