Sidebar

Edward Tiffin
NAME: Edward Tiffin
BORN: June 10, 1766
COMMUNITY AFFILIATIONS: (born, Carlisle, England); family eventually moved to Chillicothe, Ohio (Ross County)in 1798
PARENTS: Henry Tiffin and Mary Parker Tiffin
EDUCATION: studied medicine, Jefferson Medical College, Pennsylvania
GOVERNORSHIP: 1st governor, 1803-1807, two terms
POLITICAL AFFILIATION: ?
DIED: August 9, 1829
BURIED: Chillicothe, Ohio
FAST FACTS:
Tiffin was a physician and minister by training.
Tiffin came to America when he was eighteen. In 1799, he was the Ross County representative delegate to the Territorial Legislature in Cincinnati. Tiffin was a leading spokesman for statehood.
He resigned from the governorship to take a seat in the U.S. Senate in 1807. After the death of his wife in 1808, Tiffin resigned from the U.S. Senate.
He later served in the Ohio House of Representatives from 1809 to 1811.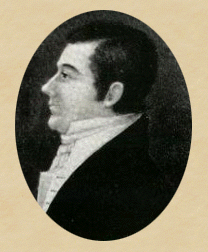 FIRST LADY of OHIO
NAME: Mary Worthington Tiffin
BORN: ?
COMMUNITY AFFILIATIONS:
orginally from Virginia;
moved to Chillicothe, Ohio (Ross County)
DIED: July 1808, age 46