Sidebar

Bob Taft
NAME: Bob Taft
BORN: January 8, 1942
COMMUNITY AFFILIATIONS: Hamilton County, Ohio
EDUCATION:
Yale University, BA, 1963 
Princeton University, MA in Government, 1967 
University of Cincinnati Law School, JD, 1976
GOVERNORSHIP: 67th governor, January 1999 - present
FAST FACTS:
Taft is an educator by training.
He has served as a teacher in the Peace Corps in Tanzania, East Africa (1963-1965), Budget Officer and Assistant Director of the Bureau of the Budget, State of Illinois (1969-1973), State Department employee in Vietnam (1967-1969), member of the Ohio House of Representatives (1976-1980), and Hamilton County Commissioner (1981-1990).
Taft was elected Ohio's Secretary of State in November 1990 and sworn into office on January 14, 1991. He was re-elected in 1994.
His father and grandfather were U.S. Senators, and his great-grandfather, William Howard Taft, was the 27th president of the United States and Chief Justice of the U.S. Supreme Court.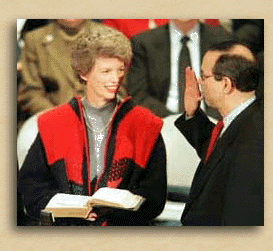 FIRST LADY of OHIO
NAME: Hope Taft
BORN: ?
COMMUNITY AFFILIATIONS:?
MARRIED: ?