Sidebar

Return J. Meigs, Jr.
NAME: Return J. Meigs, Jr.
BORN: November 17, 1764
COMMUNITY AFFILIATIONS: (born, Middletown, Connecticut); moved his family to Marietta, Ohio in 1788
EDUCATION: graduated, Yale, 1785 (law)
GOVERNORSHIP: 4th governor, 1810 - 1814
POLITICAL AFFILIATIONS: Republican
DIED: March 29, 1825
BURIED: Mound Cemetery, Marietta, Ohio
FAST FACTS:
Meigs was a lawyer by training.
In 1803, Meigs was appointed Chief Justice of the Ohio Supreme Court. Samuel Huntington was his sucessor in that position.
Meigs resigned the governorship in 1814 to accept the appointment of Postmaster General under President Madison.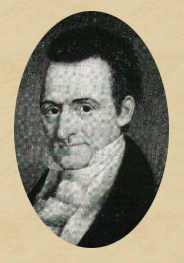 FIRST LADY of OHIO
IMAGE NOT AVAILABLE
NAME: Sophia Wright Meigs
BORN: ?
MARRIED: 1788
DIED: November 7, 1838