Sidebar

Duncan McArthur
NAME: Duncan McArthur
BORN: January 14, 1772
COMMUNITY AFFILIATIONS:
(born, Dutchess County, New York)
settled his family in Chillicothe, Ohio (Ross County), 1797
GOVERNORSHIP: 11th governor, 1830 - 1832 (one term)
DIED: April 29, 1839, Chillicothe, Ohio
FAST FACTS:
McArthur was a soldier by training.
During 1792, McArthur was employed as a surveyor in the Scioto Valley, travelling as far north as Chillicothe. In 1796, he helped plot the town.
McArthur was a notable soldier, attaining the rank of brigadier general during the War of 1812. As a soldier, he helped negotiate the Treaty of the Rapids Miami of Lake Erie, which ceded all remaining Native American territory in Ohio to the United States.
He served in the Ohio House of Representatives (1804 - 1805, 1815 - 1818, 1826 - 1827) and in the Ohio Senate (1805 - 1813, 1821 - 1823, 1829 - 1830).
During his time as governor the National Road was completed as far as Zanesville, Ohio.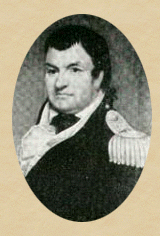 IMAGE NOT AVAILABLE
FIRST LADY of OHIO
NAME: Nancy McDonald McArthur
BORN: ?
COMMUNITY AFFILIATIONS: ?
MARRIED: ?
DIED: 1836, age 59