Sidebar

Martin L. Davey
NAME: Martin L. Davey
BORN: July 25, 1884
COMMUNITY AFFILIATIONS:
hometown...Kent, Ohio (Portage County)
EDUCATION: attended, Oberlin College
GOVERNORSHIP: 53rd governor, 1935 - 1939 (two terms)
DIED: March 31, 1946, Kent, Ohio
FAST FACTS:
Davey was a businessman by training. He worked in his father's company, The Davey Tree Expert Company. He ultimately succeeded his father, John Davey, as company president and served in that capacity until his death in 1946.
His political career began with three consecutive terms as mayor of Kent. he went on to serve three terms in the U.S. House of Representatives.
As governor, Davey had to deal with many of the problems brought on by the Great Depression. He overhauled Ohio's Relief Administration and introduced the School Foundation Bill, which earmarked specific dollar amounts for each and every child in public schools.
The Steel Strike of 1937 was one of the most controversial events of his administration. In response to labor unrest in Mahoning and Trumbull counties, Davey mobilized the state militia.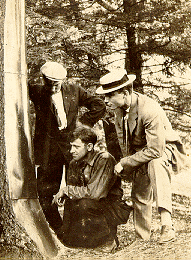 FIRST LADY of OHIO
NAME: Bernice Chrisman Davey
BORN: ?
COMMUNITY AFFILIATIONS: ?
MARRIED: ?
DIED: ?