Sidebar

Thomas Corwin
NAME: Thomas Corwin
BORN: July 29, 1794
COMMUNITY AFFILIATIONS:
(born, Bourbon County, Kentucky)
raised...Lebanon, Ohio (Warren County)
GOVERNORSHIP: 15th governor, 1840 - 1842 (one term)
DIED: December 18, 1865
FAST FACTS:
Corwin was a lawyer by training. In essence, he was born into politics. His father, Mathias Corwin, who had served eleven terms in the general assembly, groomed him for public service.
Corwin served as Warren County prosecuting attorney from 1818 to 1828. He served in the Ohio General Assembly from 1821 to 1823, and again from 1829 to 1830.
Corwin served in the U.S. House of Representative from 1858 to 1862.
FIRST LADY of OHIO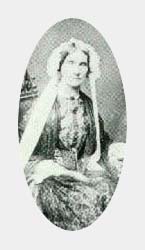 NAME: Sarah Ross Corwin
BORN: ?
COMMUNITY AFFILIATIONS:
born...Chester County, Pennsylvania
family moved to Lebanon, Ohio
(Warren County), 1817
MARRIED: November 13, 1822
DIED: 1878, age 83