Sidebar

Salmon Portland Chase
NAME: Salmon Portland Chase
BORN: January 13, 1808
COMMUNITY AFFILIATIONS:
(born, Cornish, New Hampshire)
moved...Worthington, Ohio (Franklin County)
moved...Cincinnati, Ohio (Hamilton County)
EDUCATION: graduated, Dartmouth College, 1826
GOVERNORSHIP: 23rd, 1856 - 1860 (two terms)
DIED: May 7, 1873
FAST FACTS:
Chase was a lawyer by training.
Chase moved to Worthington to live with his uncle, Bishop Philander Chase. After graduating from Dartmouth, Chase practiced law in Cincinnati for a time.
Chase was the first Republican governor of Ohio.
Chase was well known for his opposition to slavery expansion, and as a U.S. Senator, he opposed the Compromise of 1850 and the Kansas-Nebraska bill. Chase took on a leadership role in the slavery debate.
Upon being elected governor, Chase championed antislavery issues. He also fought to improve the status of women as property holders. He helped to establish a state geological survey, a bureau of statistics, and a railroad commission.
During the Lincoln administration, Chase served as Secretary of the Treasury and, later, Chief Justice of the Supreme Court.
Chase ultimately abandoned the Republican party. With the assistance of his daughter, Catherine Chase, he pursued the Democratic nomination for president in 1868. Their efforts, however, failed.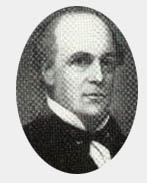 FIRST LADY of OHIO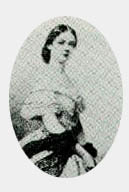 FIRST LADY of OHIO
NAME: Catherine (Kate) Jane Chase
BORN: August 13, 1840
COMMUNITY AFFILIATIONS: (born, ?)
DIED: (Washington D.C.) July 1899
FAST FACTS:
Salmon Chase had been widowed three times before taking office as Ohio's governor.
His daughter, Kate took on the role of hostess.
She moved to Washington D.C. with her father and became quite influential in social circles.
During a visit Lincoln made to Columbus, Kate became the center of a scandal when she insisted that he dance with her. Mary Lincoln was angered enough to have the music stopped mid-dance. 
Upon moving to Washington, Kate found herself "black listed" from many social functions.