Sidebar

Asa Smith Bushnell
NAME: Asa Smith Bushnell
BORN: 1834
COMMUNITY AFFILIATIONS:
Rome, New York
family moved to Ohio at age eleven
he spent time in Cincinnati, Ohio (Hamilton County)...
and eventually settled in Springfield, Ohio (Clark County)
EDUCATION: little formal education
GOVERNORSHIP: 40th governor, 1896 - 1900 (one term)
DIED: January 1904
FAST FACTS:
Bushnell was a businessman by training.
He started out as a dry goods clerk in Springfield, Ohio. Soon after, he became a bookkeeper in a large company. Upon marrying Ellen Ludlow, he became a partner in her father's drug store. Eventually, Bushnell became a partner in a firm that manufactured reapers and mowers (eventually sold to International Harvester). He became active in state-level Republican politics, serving prominently in party committees.
With the assitance of Cincinnati political boss, George Cox, Bushnell won the 1895 election for the governorship of Ohio.
During his tenure as governor, legislation passed providing limitations on the employment of minors and improvements in the working conditions for women.
Daniel Bushnell, his father, was active in the Underground Railroad. One of Bushnell's cousins was implicated in the famous Oberlin-Wellington case.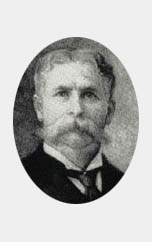 FIRST LADY of OHIO
NAME: Ellen Ludlow Bushnell
BORN: ?
COMMUNITY AFFILIATIONS: hometown, Springfield, Ohio (Clark County)
MARRIED: 1857
DIED: ?